In the last blog post, I discussed the necessities of denying and dying to self in order to follow Christ. Today, I would like to encourage you to consider the best investment we can possibly make during our time on earth. This post is the third in the series of fan vrs follower wherein I reflect on Kyle Idleman's ideas presented in Not a Fan. All posts will be under the category "Not a fan" if you would like to read all three articles together.
Matthew the Tax Collector and Outcast–Called to Follow Matthew 9:9-11
To begin, let's consider the disciple know as Levi or Matthew. The name Levi means "joined together." This name came to represent the priestly and temple servants. It's possible that Matthew's parents named him this to represent his future service to God. They may have intended for him to serve as a priest or temple worker. Yet something went wrong with Matthew. As we read the synoptic Gospels, all accounts present him as serving as a tax collector for the hated Romans. He would have charged in excess in order to enrich himself. He was considered in the class of "tax collectors and sinners." He was cut off from God's Temple–not even allowed to enter the outermost court. His friends were other tax collectors and sinners–the spiritual rejects of society.
Yet, when Jesus came by his tax collector booth and called him; Matthew stops immediately and follows Jesus. Kyle describes the process of Jesus calling disciples:
Instead of followers applying (like normal rabbis), Jesus invited followers. This approach of going to someone and inviting him just wasn't done. A rabbi wouldn't humble himself, or extend himself in that way. A rabbi wouldn't risk rejection, a rabbi would do the rejecting. But Jesus takes the initiative. It would have been shocking enough if he had simply allowed Matthew to follow him, but Jesus actually extends the invitation. pg 121
Jesus calls, heals, and makes righteous the outcasts and "sinners." Have you responded to Jesus' invitation to follow Him? Kyle reminds us: "When Jesus invited Matthew to follow, he was making it clear that this is an invitation extended not solely to the religious elite, the morally upright, and those who have their lives together." pg 122
Matthew gave up his profitable tax collecting racket to follow Christ because he recognized a better treasure!
Parable of the Hidden Treasure: Matthew 13:44
Jesus uses a series of parables to teach about the real value of God's Kingdom.
"Jesus wants us to understand that following him is a pursuit that requires everything we have. . . It gives us a picture of what Jesus had in mind when he invited us to come after him. . . Followers understand that following Jesus is a pursuit that may cost them everything, but it is the best investment they could ever make." pg 133
Jesus uses the parable examples wherein a man and a merchant sell everything to buy a field and pearl that were exceeding more valuable that what was sold. We have a choice in what we daily invest our time, energy, and spiritual resources on in life. We can invest ourselves in our careers, families, etc but what are you investing in God?
Jesus is clear in His expectation: He must be first! Jesus warns that our attachment to personal property, wealth, success, dreams, hopes, desires, even family members can keep us from Him.
"Pursuing Jesus is your choice and Jesus wants to make it clear what you're agreeing to if you respond to his invitation. He will settle for nothing less than to be the great love and pursuit of your life. That's what he wants." pg 136
Counting the Cost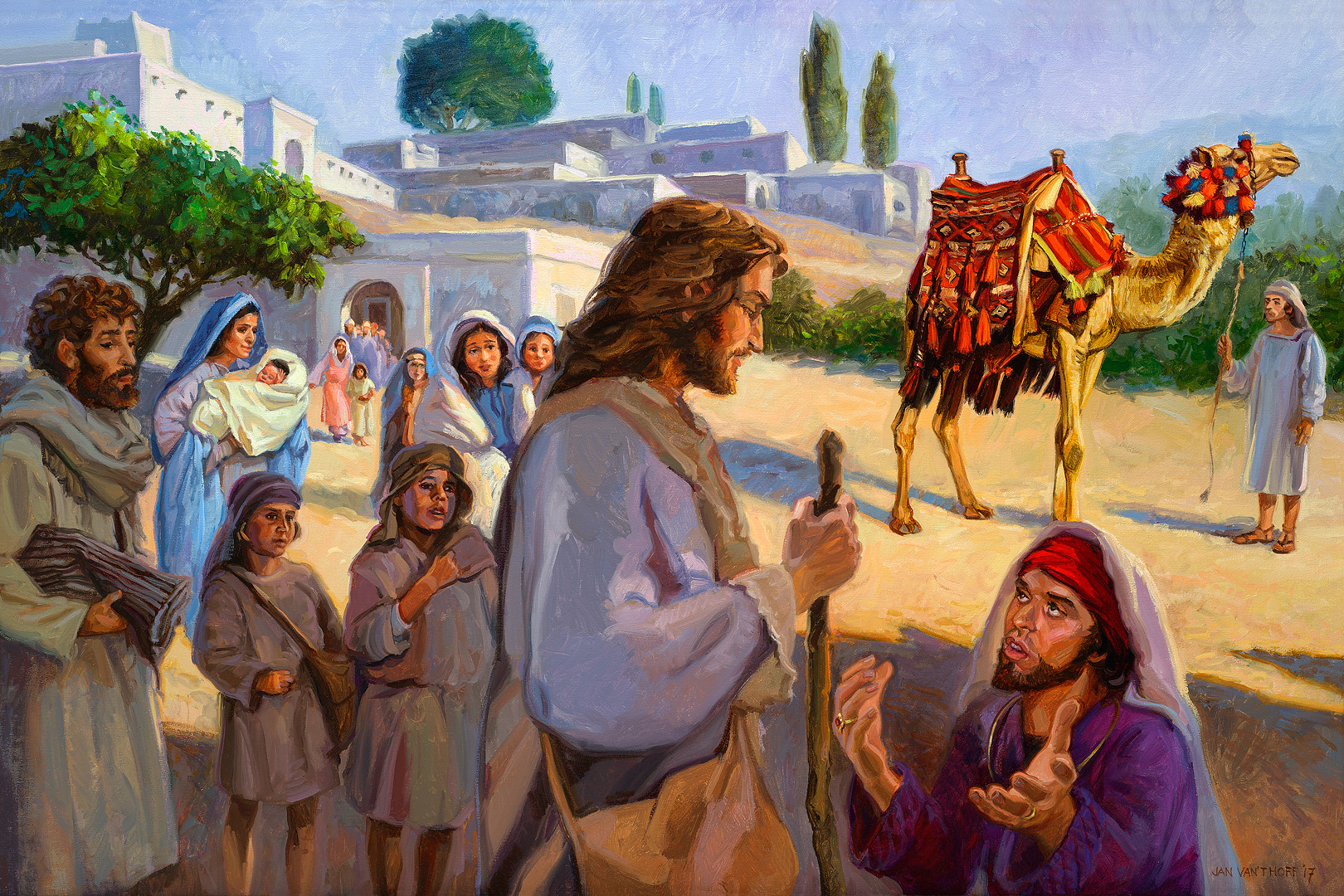 The Gospel writers include the Rich Young Ruler account to warn us in Matthew chapters 19, Mark 10, and Luke 18. In all accounts the following happens in order:
Rich young ruler–possibly the leader of a local synagogue comes to Jesus and asks what he must do to "inherit eternal life."
Jesus replies that he must obey all the commands of the Ten Commandments.
He replies that he has obeyed all of the commandments– he proclaims his righteousness by good deeds/works
Jesus adds that he must sell all of his property, give it to the poor, and then follow Him.
The Rich young ruler walks away grieving because he wasn't willing to part ways with his wealth/give to others.
Mark 10:21 mentions that Jesus "felt a love for him" prior to telling him to sell his property. The key Greek words "agape," "stugnazo," and "lupeo" are present in this context. Jesus loved Him with the highest love. The young man became "gloomy, shocked," and left in "grief." The young man walked away from Jesus because of the high cost of following Him!
Can you admire this young man for his honesty? He recognized the cost and what it would mean. I believe that his honesty and grief may have been the start of his relationship with Christ. Prior to encountering Jesus, he believed that salvation and eternal life came from obeying the Ten Commandments. Yet Jesus opened his eyes to realize that he was falling short. He wasn't loving God with all of his heart, mind, strength, and soul and loving his neighbor as himself Luke 10:27.
In depth article on this account:
https://www.gotquestions.org/rich-young-ruler.html
The most dangerous place to be in our lives is to think we are right with God due to our deeds but not recognizing our sinful, fallen state!
Closing Thoughts & Summary
Personal Reflection Questions:
What is holding me back from following Christ with all of my mind, effort, and resources?
Why does God ask that we forsake all to follow Him? Why is the cost high?
Am I being honest with God and responding to His Holy Spirit, Living Word, and conviction(s) to repent?
Words of encouragement:
God knows that the journey is difficult and costly! When it feels painful remember the price God paid to save us! Let us turn our eyes to our Heavenly Father and remember the joy and glory that awaits us in eternity with Him! Walking with Christ means that we never walk alone!
I type these words as a pilgrim who must count the cost and make the proper daily investments in Christ,
Soli Christos gloria!
Lee Stanfill